Year 5
As part of Judaism week, today Year 5 tried different foods that would have been shared from the Seder plate the night before Passover.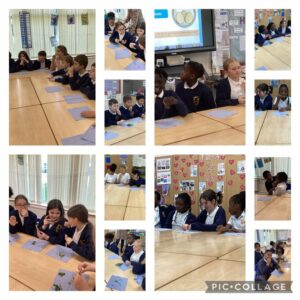 This afternoon in year 5, we are testing whether or not the weight of an object makes a difference to the time it takes for the object to fall to the ground.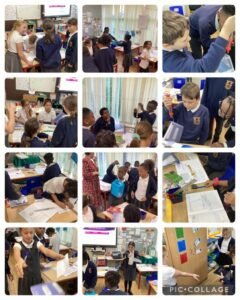 Year 6 were joined by the year 5 class for liturgical prayer this week. The theme was vocation and commitment. The children were asked to think about how they could be committed to their calling.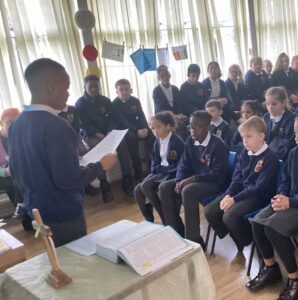 This morning in Year 5 computing, we have been looking at cyber bullying and the effects it has on its victims. We have been given the creative freedom to create posters/leaflets to educate others on this.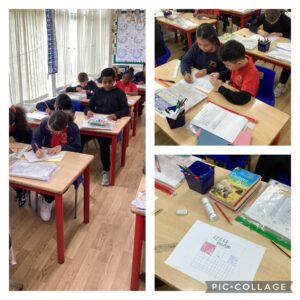 Todays year 5 PE lessons involved synchronisation. This took a little practise but we got there in the end.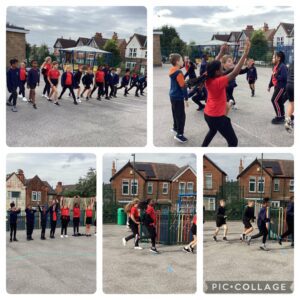 Today is International Day of Languages. Here are some Year 5 children in their traditional dress.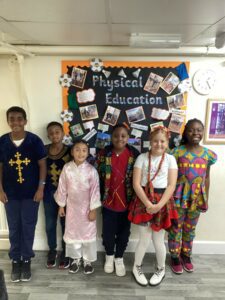 Year 5 Retreat Afternoon Encounter The children discussed different scriptures and the ways we can encounter God.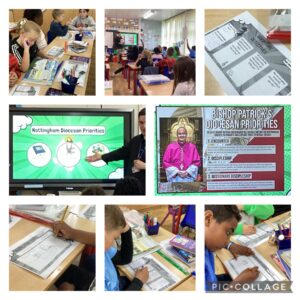 Year 5 have been learning how to deal with stressful situations in todays DaART lesson.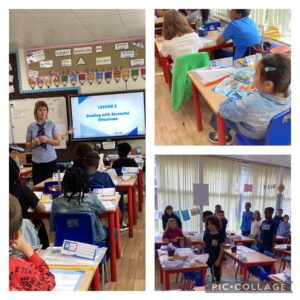 Today in year 5 we are planning our Liturgical Prayer to share with year 6 tomorrow afternoon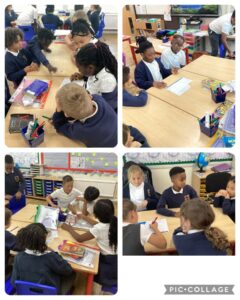 Well done to our boys football team for a fantastic performance and win this week against @GreythornPS  Our girls also enjoyed participating in their football festival too.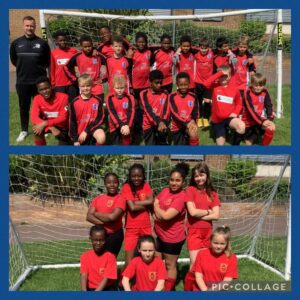 Well done to our boys football team who returned to winning ways with a 5-3 win this afternoon. Thank you to @SacredHeartOLOL for your sportsmanship, it was a great game!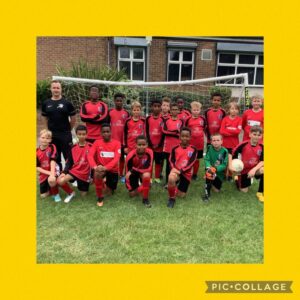 Year 5 and 6 thoroughly enjoyed their visit to the tennis centre this week. There were some good skills on show during the drills, you met the mascots and even squeezed in time to watch some live tennis at the Nottingham Open.
Well done to the boys from Year 5 and 6 who represented our school playing football against @GreythornPS  Despite losing 5-4 in the closing stages, Mr Jessop was very proud of your commitment.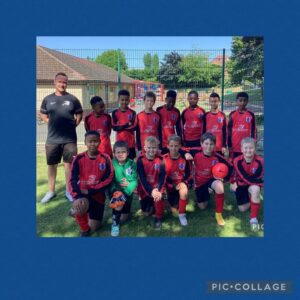 A massive well done to some of our year 5/6 children who represented school yesterday in football against St Patrick's. Boys team won all 3 matches. The girls also won both of their matches. We couldn't be any prouder of your hard work and dedication.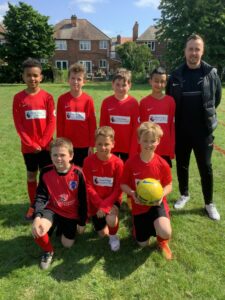 Everyone in Colwick is up, fed and happy…there's even time for a walk and play in the park. What super memories we have all made.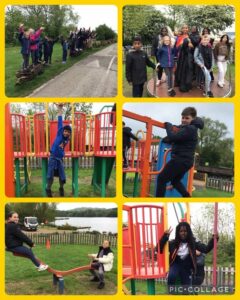 What a fun end to a wonderful, memorable day. Songs around the campfire, toasting marshmallows & hot chocolate.
Enjoying a "packed tea"in the sunshine.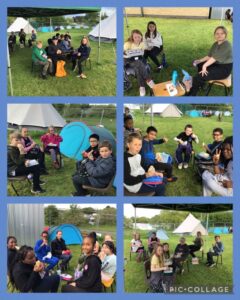 Orienteering around West Lake, working together to find flags and answer the quiz questions.
Fantastic high ropes and climbing… everybody managed to conquer the wall!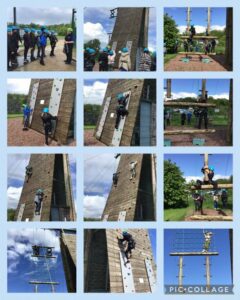 Problem solving and team building inside our dry tents.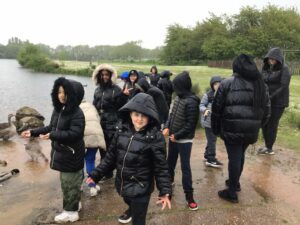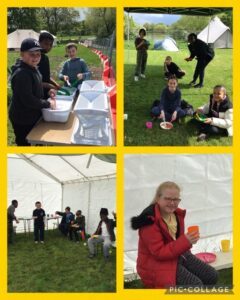 Den building including making fairy houses.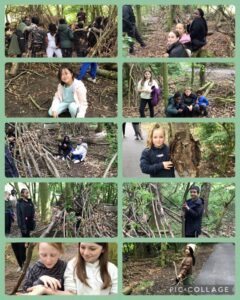 Year 5 have all arrived safely at Colwick, looking forward to our camping adventures.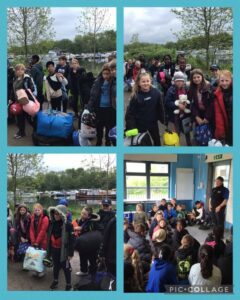 Children in Year 4, 5 and 6 enjoyed creating their gardens to celebrate the Coronation of King Charles III on Saturday.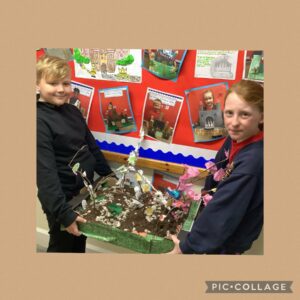 Year 5 are kicking off their Coronation Celebrations by doing a reading comprehension to learn more about the ceremony.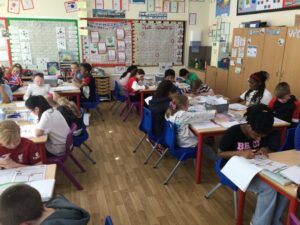 Well done to the children in year 4 and 5 who represented school in the athletics tournament yesterday. Bronze in the track events and silver in the field events so overall Silver. Super proud of your hard work and effort.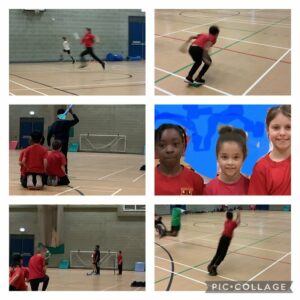 Year 5 led us this afternoon as we continue on our Lenten journey. Their theme was sacrifice and we had time to reflect on the sacrifices we make during Lent to help others but also looking ahead to the greatest sacrifice Jesus made for us. #pupilled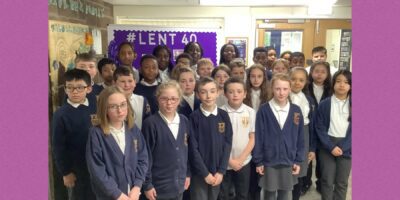 Year 5 have spent the last day of term at the space centre. First of all, we sat in a planetarium and learnt what it takes to be an astronaut. We then went and explored the space centre learning all about the planets,start of the universe and much much more.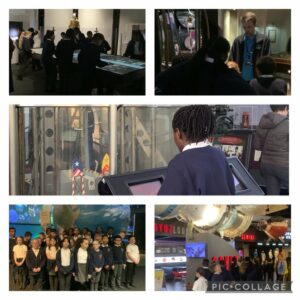 Year 5 worked really hard today using atlases and maps to locate & label Asia, it's countries & capital cities. They included rivers & mountain ranges on their maps. They also used good Oracy skills to discuss the Biomes of Asia.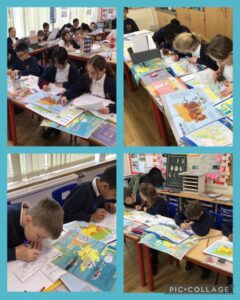 Year 5 have been practicing their oracy skills this afternoon. We were asked would you rather questions, some very interesting and debatable!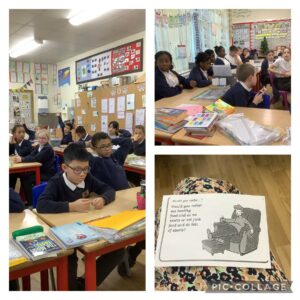 Year 5 have been learning about air and water resistance in Science. We used our investigative skills to investigate the question 'Does the surface area of a parachute affect how long it takes to hit the ground?' The answer is yes!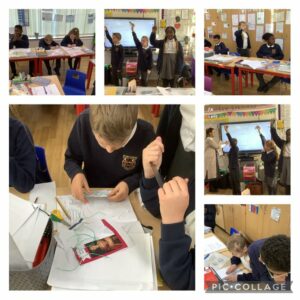 Year 5 have been working on tone this morning. Learning how to use a colour to create different tones and shades. They then created a picture and thought about how we can use tone to reflect the mood that we are feeling.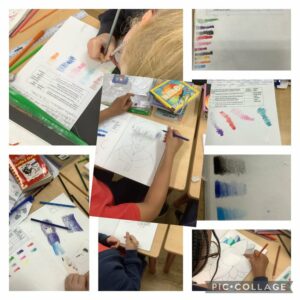 Congratulations to Year 5 for all of your hard work over the last ten weeks in your DAaRT sessions. Thank you for sharing everything you learnt during your graduation on Thursday. You all looked great in your DAaRT t-shirts too. Thanks to the families who joined us too. #PHSE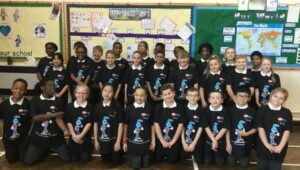 Year 5 have started the week by recapping the features of a non-chronological text. We each had to tell Miss Callaghan something about the text type then we practiced identifying the features in pairs.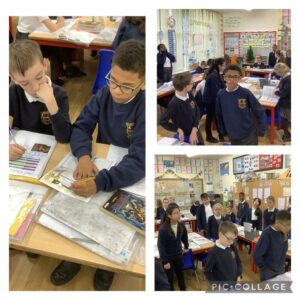 Year 5 contributed really well during the launch activities of our oracy afternoon. They followed the talk guidelines well ensuring that they faced the person they were talking too. Some great discussions took place. Well done year 5.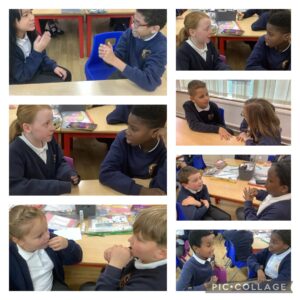 Year 5 have enjoyed learning about the Jewish faith this week as part of Judaism week. They have been learning about Passover and a Seder plate.
Well done to our wonderful year 5 for planning and leading us in our Harvest liturgy. Thank you to all of our families for your generous donations which will be passed on to our parish SVP group and support those in our local community. #faithinaction