Year 3
Final day in Hathersage. Breakfast eaten, bags packed and beds stripped. Having a play outside and waxing our boots before we head to the playground.
Dinner time! We had a wonderful time in the cafe and have just enjoyed some hot chocolate. Getting ready for a well earned sleep
Den building! The children worked together to gather resources and construct these fantastic dens. Good enough to sleep in!
Fantastic geography field work taking place in Hathersage today! We used our knowledge of maps and keys to guide the way on our walk. Excellent work !
Good morning! Breakfast was delicious and now it's time to get our kit on and head off for our walk from Grindleford
This evening we had a delicious dinner with lasagne, garlic bread, jacket potatoes and salad. Very impressed with everyone trying something new. After that we made our sandwiches for tomorrow and headed out for the bat walk. All in bed ready for another exciting day tomorrow!
Time for our first adventure! Off over the fields for orienteering and stream study. We saw a crayfish! We even had time for a quick duck race. Lucky number two won the race
We arrived at Hathersage safe and sound. Lots of smiles and excited faces! We had our lunch outside and then learnt all about the Peak District and national parks.
Year 3 had a great time learning the skills of handball before putting them into practice to play a game.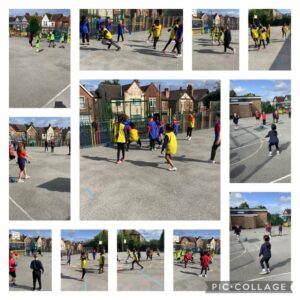 Year 3 had partake yesterday … Learning all about their topic ! The Romans. They dressed up, they did engineering making arches remembering the structure, they created mosaics, they became roman soldiers blocking the barbarian attacks also. They had a lovely Roman day !
Year 3 ended yesterday with a team building PE session using their communication skills to find the best way to get each activity they was given together complete ! Team work !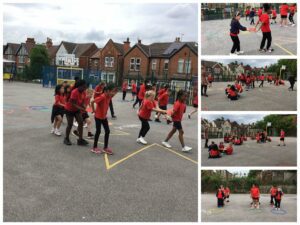 Yesterday year 3 had a visit from the chaplain Joe. They discussed how they saw the church, who Jesus is to them, how their friends and families help them become followers of Jesus and they reflected on the things discussed.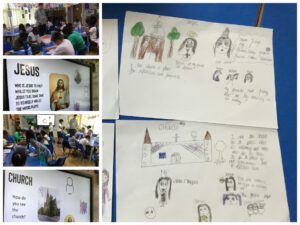 Year 3 enjoyed PE today, using lots of team work. They had to communicate well and show good oracy skills listening to each other by taking in turns to talk about their tactics before they did their fun team work activities !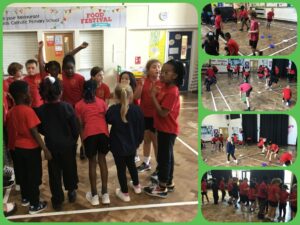 Year 3 have enjoyed doing some Art, using painting blocks to create patterns !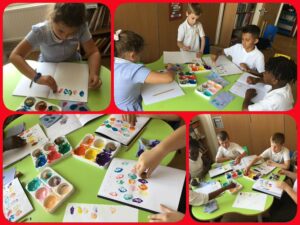 Year 3 enjoyed taking part in PE yesterday which involved cooperation and teamwork skills. Lots of fun was had as well as learning lots of skills.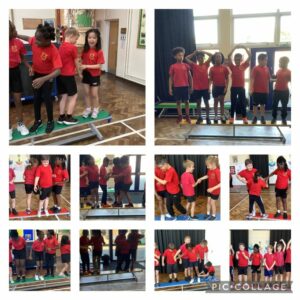 Year 3 had a lovely afternoon yesterday making their own bread rolls from scratch learning about how to knead the bread and they turned out delicious …… So today they made their own healthy sandwiches using their homemade bread rolls. They can't wait to eat them.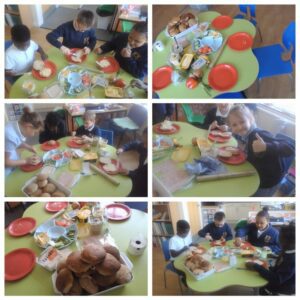 Children in Year 1, 2 and 3 enjoyed creating their gardens for King Charles III as part of our Coronation celebrations.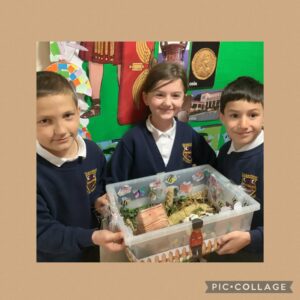 We have had a great time celebrating the Coronation in Year 3. As well as designing our garden, we have had a symbol scavenger hunt, written letters to King Charles and made collage Union Jacks! we Are so excited for the picnic!
In P.E. We were refining our sprinting skills by thinking about our starting position and the technicalities of our sprints. We had a go at coaching each other and even had some time for some mini races. Ready, steady, go!!
Year 3 we're practicing their oracy skills in R.E. today. We explored the Pentecost story and the good news shared by the diciples by Imagining the diciples were being interviewed and coming up with our own questions and answers
We have been thinking about our school values today and in year 3, looked at "Forgiveness". We shared the Our Father and the Parable of the Prodigal Son. We reflected on times we have forgiven others and asked to be forgiven.
Year 3 enjoyed starting their new RE topic about Energy. They thought about the importance of wind and fire and the impact they both have on our lives.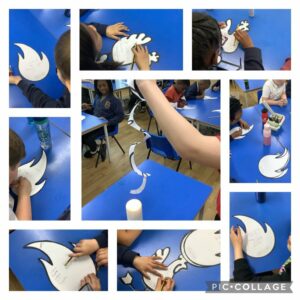 Year 3 have enjoyed using a range of painting techniques to imitate Pablo Picasso's art work !  They sketched and then painted an abstract portrait. A lovely end to this half term !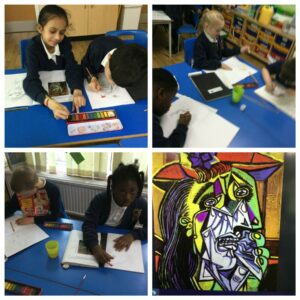 Yesterday Year 3 enjoyed their PE lesson. They were balancing their balls on their rackets. They were practising bouncing the balls on their rackets keeping control and Year 3 especially enjoyed our team battle at the end of the session !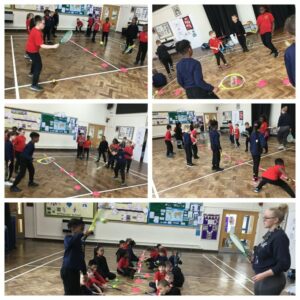 Very creative Year 3 for our World Maths Day !!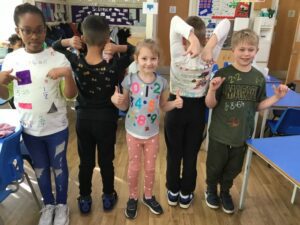 Year 3 have enjoyed being Mathematicians today….. We have baked rice krispie cakes using careful measurements, we have estimated capacity and measured actual capacity, we have ordered smallest to largest and answered questions and much more…!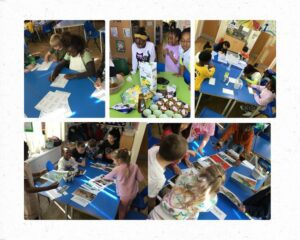 Year 3 have enjoyed colour mixing this afternoon. Learning about Primary colours and how these can be used to create secondary colours. They also learnt about highlights and tints.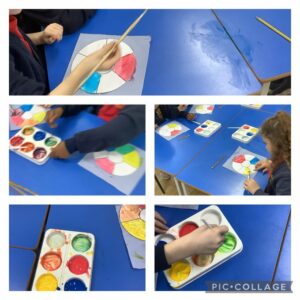 Yesterday Year 3 made front and back covers for our class book "The accidental prime minister". We had fun making emoji bookmarks and making stories up in groups !
Year 3 has enjoyed their dance work shop this morning – Alice in Wonderland !  We used our bodies to do lots of different moves and made an overall performance at the end !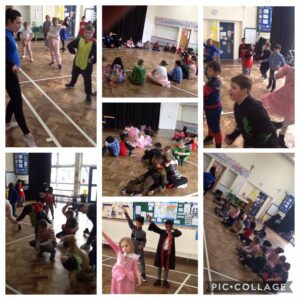 Year 3 had a lovely afternoon for well-being….. They chose to watch a movie "back to the outback" and have some juice and biscuits whilst colouring positive affirmations in.
Some of year 3 doing a science experiment this morning, using their prior learning, linking in with their topic rocks and soils – Which soil holds the most water? They were able to use their scientific knowledge for a hypothesis and were able to evaluate their results!
After researching European artist this morning. We reasearched Henri Matisse, Piet Mondrian and Wassily Kandinsky. Year 3 have created some artwork using their methods this afternoon. Very creative work !
Year 3 have been exploring the properties of rock For science
Earlier this week, Year 3 we're practicing our transitions in gymnastics. We used a jump to connect our poses. An excellent effort all round!
Welcome back Year 3! We started our day off practicing our TALK guidelines ensuring we were good listening partners whilst we considered our "journeys" through 2022 In R.E.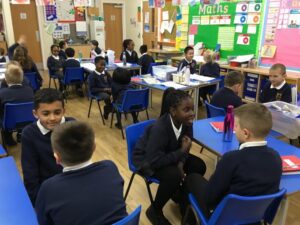 Today in Year 3 we have been working on division focusing on grouping and sharing. We used counters to help us make our groups equal
In Year 3 we have created our own Stone Age Paints using natural resources. We used berries, mud, turmeric and water. The finished pictures look great!
Year 3 have had a lovely afternoon exploring Oracy. They did a great job sharing their interests with others, following our listening rules. We then had a great time playing some games!
Children across Year 3 and 4 have enjoyed helping @BishopPMcKinney . They have shared their thoughts and feelings about being a member of God's family, what would make it even better and who they would like to invite in the future. @OLOLCatholicMAT  #synod
Fun 'Children in Need' art activities in year 3 this afternoon. Super cutting, sticking and joining skills and neat colouring. Well done.
We have had a fantastic day, a train ride, lots of walking, a few rain showers and now it's time to clean our boots! #fun #hometomorrow